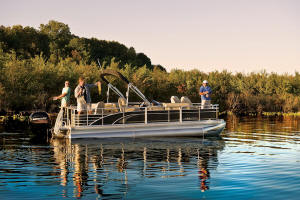 PONTOON ADVENTURE ON LAKE SAKAKAWEA

A great way to introduce your friends, family, visitors or workers to various recreational opportunities on beautiful Lake Sakakawea.
Come and enjoy western North Dakota's legendary body of water! Lake Sakakawea is as untouched as ever and offers visitors various recreational opportunities: sightseeing, relaxing, fishing, swimming or hiking. A pontoon adventure on Lake Sakakawea can provide the opportunity for visitors to spend quality time with their families, friends and fellow workers on their days off.
A pontoon adventure will provide visitors with an opportunity to go fishing, hiking or sightseeing on legendary Lake Sakakawea, a recognized world class walleye fishery. The geology of Lake Sakakawea's shoreline and the badland topography are unlike any other landscape. Hikers who see the area for the first time will be amazed at the myriad stunning, colorful buttes, abundance of Juniper trees and the variety of wildlife. Observe firsthand what Captain Merriweather Lewis referred to in his journals August 11, 1806 when he described the "burnt hills" as the area he was near when he was shot in the buttocks by his partner Private Cruzatte. Those who see it for the first time will never forget it.
Lunds Landing Marina is uniquely located in the heart of the Bakken, easily accessible for work visitors, day trippers, leisure travelers and the general public. A place where a dozen guys or a couple of family's who want to go fishing or relaxing can rent a pontoon for a day or for a week vacation.